Last day to order for holiday shipping 12/11 and local delivery 12/18.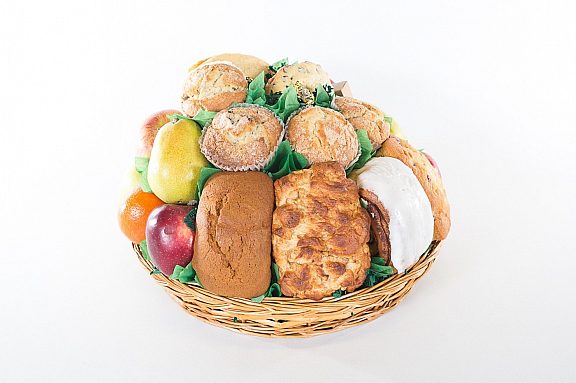 Gift Baskets are for store pickup or local delivery only. Check to see if you are in our local coverage area:
Express yourself with a mix of Brown's own bakery creations and local farm fresh fruits, beautifully displayed and available for pick-up or local delivery.
Gift Boxes Contents:
16 Fresh Seasonal Fruits
Loaf Brown's Homemade Cherry Pudding Bread
Loaf Brown's Homemade Pumpkin Bread
Loaf Brown's Homemade Apple Cinnamon Bread
Loaf Brown's Homemade Iced Cinnamon Bread
2 Brown's Homemade Blueberry Muffins
2 Brown's Homemade Vanilla Chocolate Chip Muffins
2 Brown's Famous Homemade Sugar Cakes
2 Brown's Famous Homemade Chocolate Chip Sugar Cakes
Twin Pine Sweet Bologna
Round Gouda Cheese
Cheese Dip
Brown's Honey Mustard
Pretzels