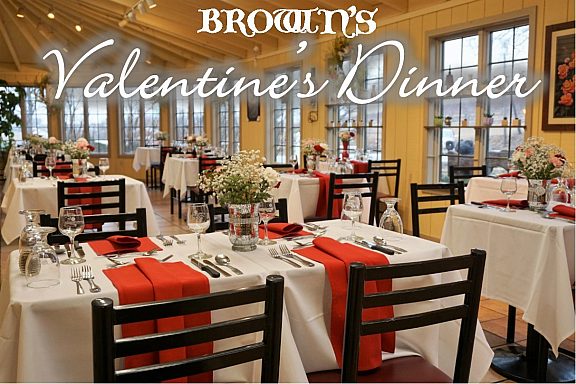 Valentine's Day Dinner
Make your reservations now for Brown's special Valentine's Day Dinner in the Cafe. We offer 3 staggered seating times on Feb. 14th at 6:00, 6:30 or 7:00 (but your table is yours for the night). Cost is $60 per person + tax (gratuity not included). The Menu will be prepared by Chef Jess & Chef Chris:
Appetizer (your choice) Smoked Salmon Crisps OR Apple & Cheese Board
Soup (your choice) Cream of Crab OR Tomato Bisque
Salad (your choice) Roasted Beets & Blue Cheese OR Strawberry & Champagne Vinaigrette
Entree (your choice) Surf & Turf (Sirloin Steak with Scallops) OR
Garlic Caper Chicken OR Seasoned Seared Cod with Beurre Blanc OR Ratatouille with Rice (Vegetarian/Vegan option)
Sides: choice of: Sautéed Asparagus OR Sautéed Zucchini
and choice of: Mashed Potatoes OR Orzo Pasta
Dessert (your choice) Chocolate Cake with strawberry buttercream & chocolate drizzle OR Peanut Butter Cheesecake with caramel & marshmallow drizzle

You can pre-order and pick up Logan's View Wine or Wyndridge Farm Beverages in their retails shops inside Brown's. (not included with meal)

For pre-paid reservations call Jan at 717-428-2036 x232.